Expensive home prices, high property taxes and anti-investor legislation are prompting a growing number of real estate investors to invest remotely outside where they live.
An analysis of Auction.com bank-owned (REO) buyer data shows that 16% of all REO buyers using the Auction.com platform purchased out-of-state homes in 2019, up from 15% in 2018 and up from 13% in 2016.
States with an above-average percentage of buyers purchasing properties in another state include Colorado (51%), followed by California (44%), Nevada (39%), Arizona (35%) and New York (27%).
Meanwhile, states with an above-average share of properties selling to out-of-state buyers in 2019 included West Virginia (37%), New Mexico (31%), Mississippi (31%), South Carolina (30%) and Arkansas (30%).
Nationwide, nearly one in five REO properties sold on the Auction.com platform in 2019 (19%) were purchased by out-of-state buyers.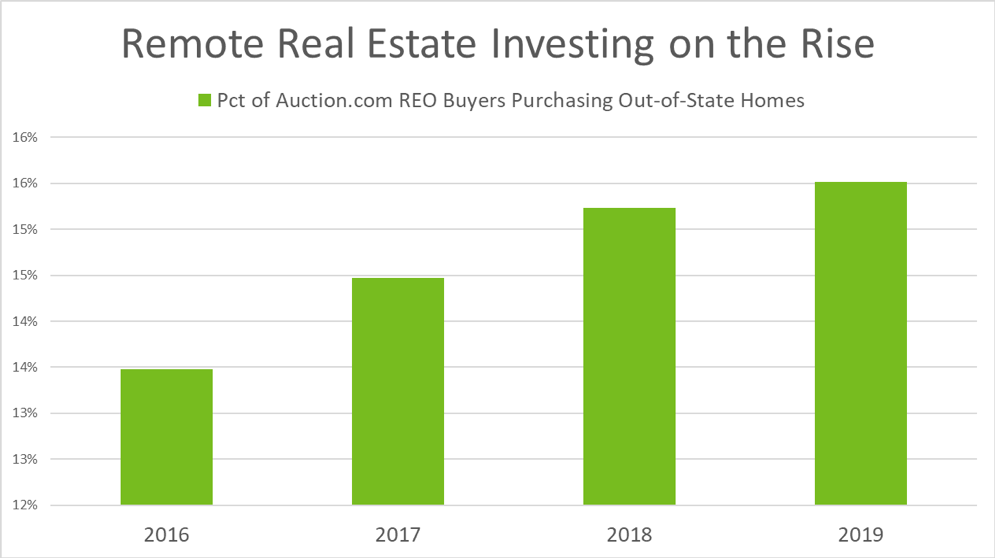 READ MORE: https://www.housingwire.com/articles/the-rise-of-remote-real-estate-investing